Taylor Lautner Gets Mobbed ... by Jamie Foxx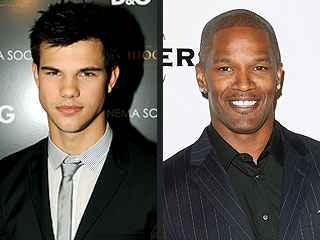 Theo Wargo/WireImage; Jason Merritt/FilmMagic
It isn't just screaming tween girls who are going gaga over
New Moon
star
Taylor Lautner
– one of the onscreen werewolf's
biggest fans
is Oscar-winning actor Jamie Foxx.
That's what Lautner found out to his great surprise at the
Twilight
premiere a year ago.
"There's tons of fans and we hear all of these high pitch voices and we hear 'Rah, rah, Taylor, Taylor!'" Lautner, 17, tells George Lopez on the Thursday airing of
Lopez Tonight
. "All of a sudden I hear this deep voice behind me: 'Taylor, Taylor!' .... And this guy walks up to me and he goes 'Hey ... my daughter is a huge fan, and I'm a huge fan is there any way I can get a picture with you. I'm Jamie Foxx.' I was like, 'Are you kidding me? Can I get a picture with you?'"
–
Michael Y. Park
Cas
Volturi Captain
__._,_.___
.
__,_._,___